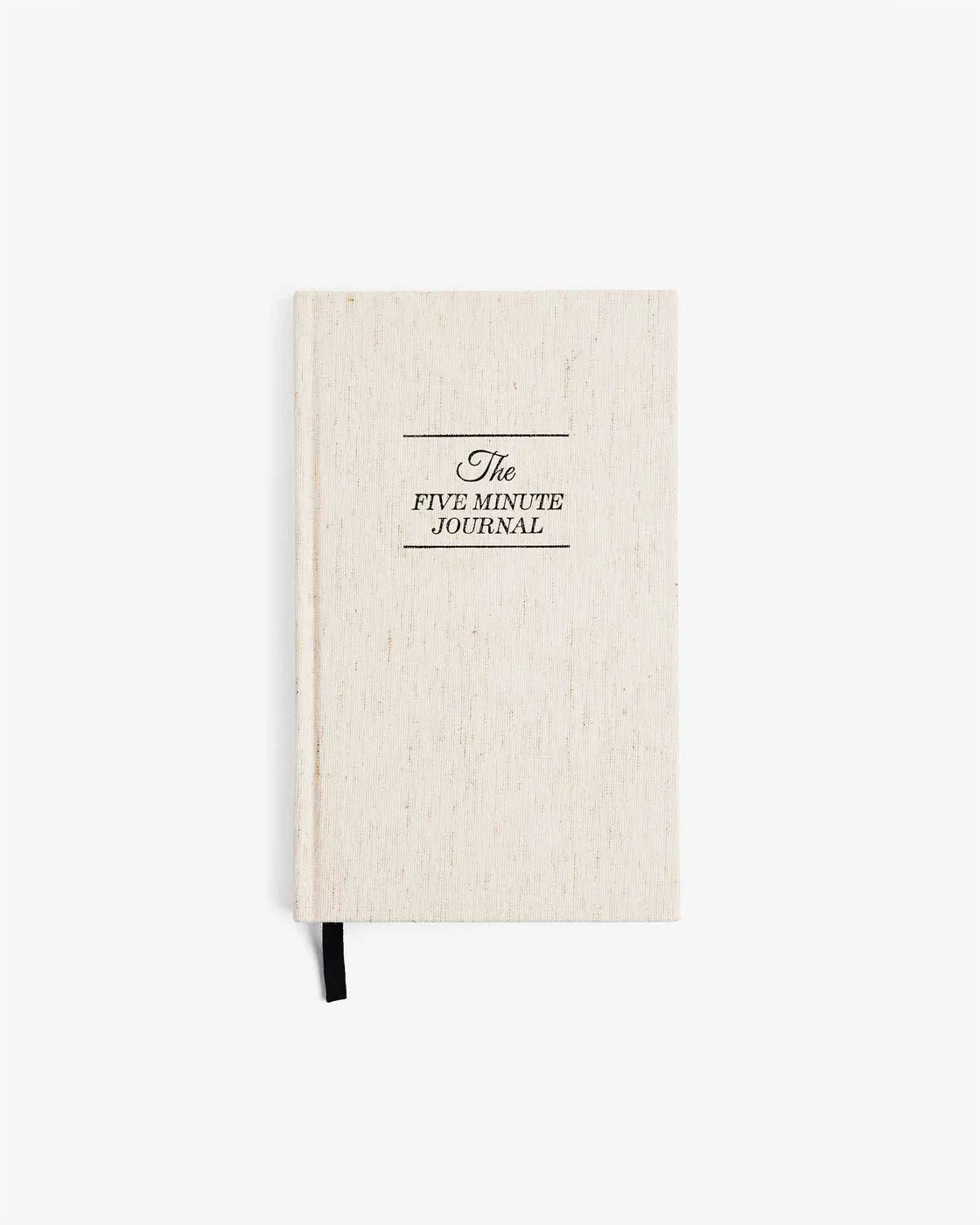 The Five Minute Journal - Oat
The simplest thing you can do to start and end your day happier in just 5 minutes a day. The Five Minute Journal incorporates proven principles from positive psychology in a guided gratitude journal format. Cultivating gratitude can have a positive impact on all areas of your life - from personal development and emotional intelligence to meaningful relationships and increased productivity. Language: English.
→ Undated, lasts for 6 months
→ 264 pages
→ 100% recycled, biodegradable, and FSC-certified paper
→ Bound in 100% linen fabric
→ Sewn with 100% cotton binding
→ Features a cotton ribbon
→ Dimensions approximately 5.28" x 8.58" (13.4 cm x 21.8 cm)
The original gratitude journal that sparked the guided journaling movement in 2013.

→ Insightful and guided introduction to mindfulness and positive psychology.

→ 6 months of daily journaling to keep you in the habit of practicing gratitude.

→ 5 daily prompts focusing on gratitude and personal growth.

→ Weekly challenges to build self-confidence and step out of your comfort zone.
Share
Discover how it works
This journal is backed by science and utilizes the transformative power of gratitude to redirect your focus towards the positive.

Think of it as your mental insurance policy, guarding against negative thought patterns and revitalizing your mind to ward off discontent.

Through its guided and structured exercises, The Five Minute Journal empowers you to embark on a journey of personal growth and become an enhanced version of yourself.
Features
Experience daily inspiration with uplifting quotes, weekly challenges, and a structured format that makes The Five Minute Journal your key to happiness.

Discover the power of positive psychology through a practical and accessible journaling routine, free from complicated academic language.

If you've always wanted to start journaling but felt unsure where to begin, this journal is the perfect solution. With just 5 simple questions that take only 5 minutes a day, it's a commitment you can easily maintain.

Capture your precious moments, insightful discoveries, and dreams in this journal. Reflect on your past entries to revisit who you were, what you accomplished, and the emotions you experienced on each day.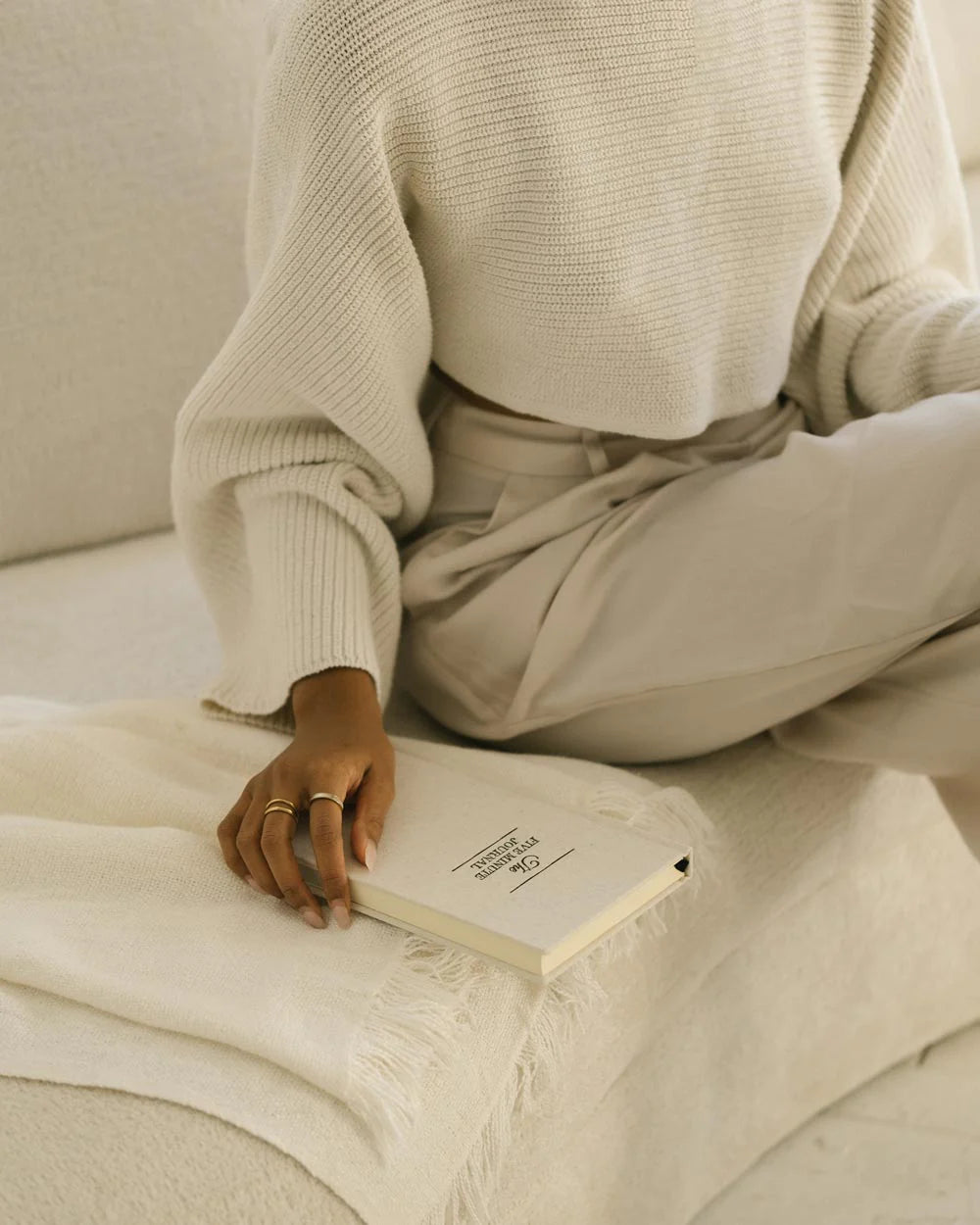 FAQs
Start your day with intention and positivity.

Take a moment to express gratitude for the blessings in your life and consider how you can make the most of the day ahead.

Build self-confidence by writing a powerful affirmation that reflects your belief in yourself and your ability to create a fulfilling life.
Before you retire for the night, cultivate a sense of fulfillment by reflecting on the moments that brought you joy and the valuable lessons you learned.

This simple practice has the power to transform your perspective on life. By documenting the highlights and lessons of each day, you are actively acknowledging and appreciating your blessings in reverse.

Embrace the opportunity to shape a brighter tomorrow by capturing the positive aspects of your day and the wisdom gained. Through this process, you nourish a mindset of gratitude and growth.
Engage in Weekly Challenges that prompt you to contemplate your values, find delight in life's simple pleasures, and step outside of your comfort zone—where genuine growth unfolds.

Embrace each challenge as an experiment within your own life, allowing yourself to fully enjoy the journey along the way.